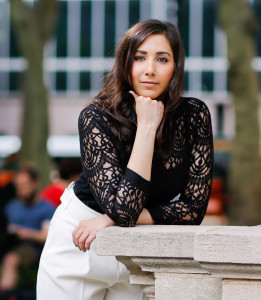 Shraysi Tandon is a documentary filmmaker and a journalist. She recently directed the New York Times Critics Pick INVISIBLE HANDS – the first feature film to expose child labor and child trafficking within the supply chains of the world's biggest corporations.
A journalist by background, Shraysi was a reporter and anchor for CGTN America (formerly CCTV America) covering business, economics and finance.
Prior to CGTN, Shraysi was a reporter for Bloomberg Television based in Sydney, Australia. At 25, she became the youngest Bloomberg TV reporter and helped oversee Bloomberg TV's Australia coverage.
As a reporter, Shraysi has interviewed Israeli President Shimon Peres, U.S. Vice President Al Gore, Liberian President Ellen Johnson Sirleaf, Australian Prime Minister Julia Gillard, Greek Prime Minister George Papandreou, World Bank President Jim Yong Kim, Academy award winner Matt Damon, Virgin Group founder Richard Branson, Apple co-founder Steve Wozniak and Nobel laureates Muhammad Yunus and Kailash Satyarthi – to name a few.
Shraysi has also covered the annual World Economic Forum in Davos, Switzerland, the annual World Bank and IMF meetings in Washington D.C. and the United Nations General Assembly in New York.
Shraysi earned a degree in political science and journalism from the University of Notre Dame in Australia. She has lived in 5 countries and 11 cities and is fluent in Hindi and Indonesian. She currently splits her time between Chicago and New York.